Different shapes, textures, and colours can augment a room's mood. One way of adding such power to your home decoration is by adding a geometric rug to the room's decoration. You might wonder what geometric rugs are and how they can enhance the beauty of a room. Here is your answer.
Table of Contents
History of Geometric Rugs
In the past, almost all rugs were woven by hand. Therefore, it was not that easy to create a pattern using different colours. However, the history of rug production shows that the first rugs with geometric patterns were created in Northwest Persia. The traditional Baluchi hand-woven rugs are also known for these patterns. Apart from Persia, geometric shapes were popular in Turkey, Morocco, and Georgia.
The art of creating geometric patterns on rugs continued until modern days. We can still see geometric pattern rugs in different stores, mostly made by machines. They can always give a brilliant look to the design of a room. Meanwhile, you should know the different styles, shapes, and methods of adding them to different types of decorations.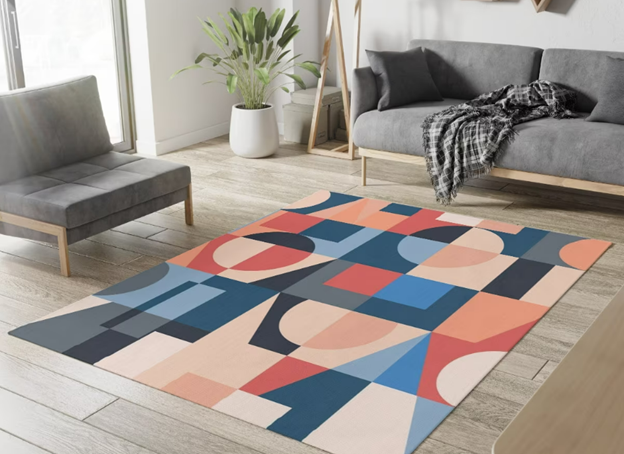 Geometric Shape Rugs
Although most of the carpets are rectangular or square, there are other shapes available in the market that can be used for specific decorations:
Round Geometric Rug
One of the most common types of geometric carpets is round carpets. In addition to the beauty and special appearance that this type of carpet creates in the decoration, you can make the room look bigger by using a round geometric floor rug because when using this shape, more empty space is created in the room, which makes the room seem bigger. The use of round rugs modernizes the space of the house. Round carpets can also have geometric shapes, which can be circular to match the carpet model or angular to create contrast in the room.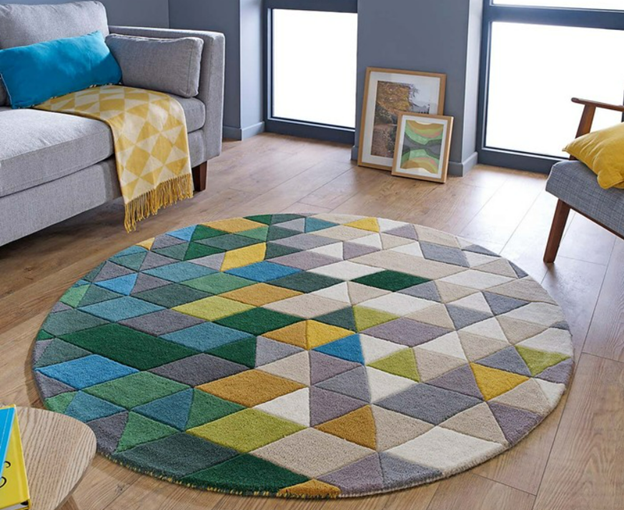 Irregular Geometric Shape Rugs
Geometric shapes can be heterogeneous in any way, completely independent of any law. Using these types of carpets requires a lot of creativity and is suitable for decorations where rules and lines have no meaning. These types of carpets can be woven from several different geometric shapes. For example, several rectangles together can make a strange yet innovative shape. The combination of rectangle and circle can also be a special semi-circular carpet for your home decoration.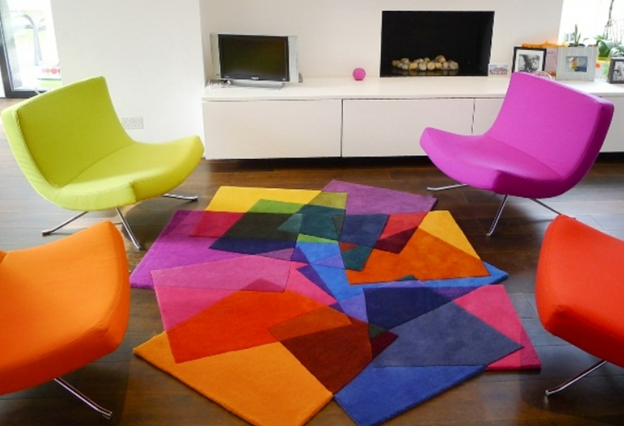 Hexagon Rugs
Hexagon-shaped rugs are not very popular because they are not as simply fit as rectangular rugs in any decoration or as unique as irregular shape rugs not to follow any rules. This geometric shape rug is rarely used, but it is mostly used in decorations where most elements have angles. For example, if you have a triangle-shaped chandelier in your living room, you can select either a hexagon shape or a patterned one.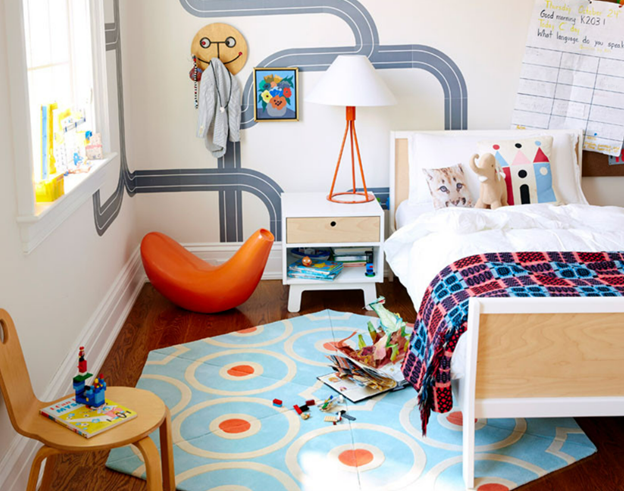 Geometric Carpet Styles
Geometric patterns can be used in different ways in a carpet design. Here are some examples of geometric carpet styles:
Traditional Rug Geometric Pattern
As mentioned in the geometric rug's history, this pattern was one of the earliest designs for rugs in Asian countries such as Iran, Turkey, and Afghanistan. Therefore, one of the most popular types of this design belongs to traditional rugs of Balochistan and Afghanistan, which mainly have red colours and repeated geometric shapes. They are hand-woven and expensive. However, you can find similar machine-made rugs in the Carpetrend shop.
Oversized Pattern
Large geometric patterns on rugs can give a different look to a room design, especially if they are asymmetrical with different colours. This type of rug is a great item for artistic designs where you want to show that you are not afraid of being different.
Pattern Combination
Most of the time, geometric rugs have one shape repeated on the rug area. What about a pattern combination? A rug should not always carry only one shape; it can have a combination of round and rectangular patterns, two different designs that complement each other when they are put together.
3D Geometric Pattern
Sometimes geometric shapes and their shades create an illusion. It seems that the shapes are out of their place and look like a 3d pattern. 3d rugs are among the most beautiful and creative rugs for modern decoration.
Colourful Geometric Pattern
Colourful patterns are mainly used in modern geometric rugs that are designed with different shapes.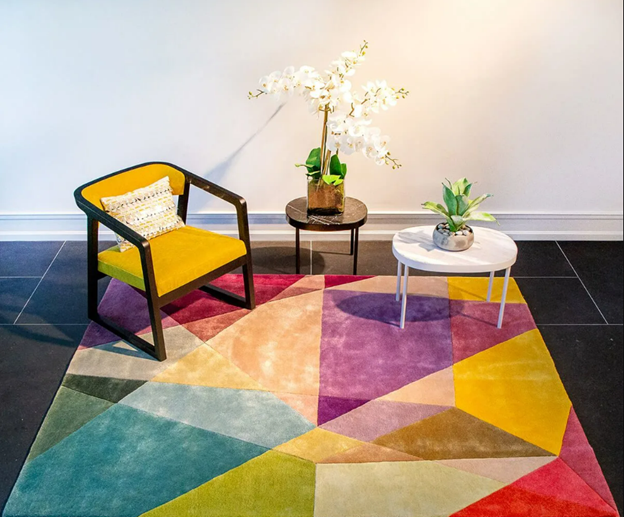 Black and White Geometric Pattern Rug
If you are not a fan of colourful designs, black and white geometric pattern carpets can be an excellent choice for your home. Since both colours are neutral, it will be easier to set this rug in home decoration.
Geometric Pattern Rugs Sizes
Like other types of rugs, geometric rugs also come in four different sizes:
Small Rugs: They are generally 150 x 80 cm or 170 x 120 cm. These rugs can be great for small bedrooms, corridors, or entrance areas. If you want to use carpets in your kitchen, opt for buying small-size rugs. 
Medium Rugs: This medium size is considered the standard size of rugs which is 230 x 160 cm. They are normally used in the living room or under the coffee table. 
Large Rugs: Choosing any size of rug rather than small or medium depends on the dimensions of your room. You can find a large geometric rug 300 x 200 cm, the best item for large living rooms with 6 to 8 seats.
Extra-Large Rugs: This is the largest rug you can find, which is 330 x 240 cm. This rug size should be used in extra-large rooms, such as an 8-10 seat dining room. If you are considering buying large and extra-large geometric shape rugs, select a shape that does not make your room cluttered. Furthermore, large and extra-large carpets should not reach the wall. Therefore, do not choose a rug fixed to a room area, always consider the rug to be at least 5 cm away from the walls on each side. 
Bottom Line
Rugs can make a room shine with their shapes and colours, especially geometric rugs. Whether they are traditional or modern, they can make a room look different than it was before. If you want to redesign your home, we recommend you choose geometric rugs because they can give more energy to your room and enhance its beauty. You can Buy Rugs Online on Carpetrend.
How to decorate with a geometric rug?
Depending on your room's decoration style, you can choose either colourful modern geometric rugs or traditional rugs. It is more helpful to select a base colour for your decoration than buy a carpet with that hue. Thus, you can easily set it with other items in your room.
What is a geometric rug?
Geometric carpet refers to carpets decorated with geometric designs like circles, triangles, rhombuses, and rectangles. Some may also have a geometric shape, like round rugs.
What couch goes well with a geometric rug?
Since geometric and colourful designs attract attention, it is better to use solid and plain colours for furniture and instead match the cushions with a pattern or colour similar to the carpet.
Can I place a patterned rug in my kitchen?
There is no prohibition on using patterned carpets in the kitchen. Though, you should pay more attention to their size when choosing. Furthermore, it is recommended to use a carpet brake to prevent the carpet from slipping and moving in the kitchen.
Related posts
Popular Rugs
Rugs Categories