How Are Woven Rugs Produced?
Woven rugs are produced either by hand or by machine. Generally, they look the same. However, hand woven rugs are more valuable and creating them will take longer. Somehow hand weaving a rug may take several months. Traditional Persian rugs are usually hand woven. On the other hand, machine-made rugs are less expensive, and producing them may take a couple of hours. Woven rugs are made with different materials; the production method might be different based on the materials used.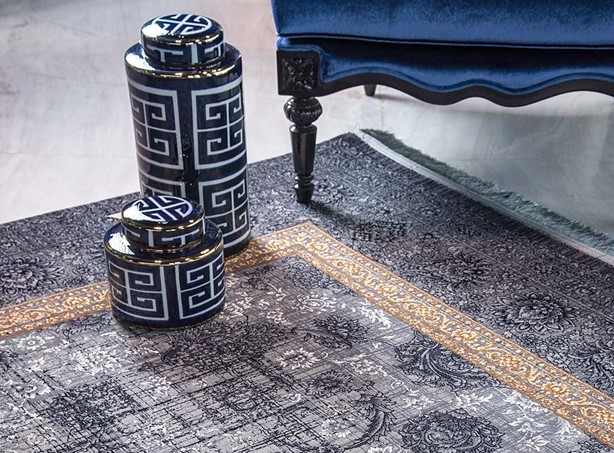 Table of Contents
Types of Woven Rugs
Carpets and rugs are divided into different types:
Tufted Rug
Unlike other rugs that are normally created with knots, tufted rugs are knots-free. Tufted rugs are woven with a machine capable of producing carpets with different pile heights. You can find diverse textures, colours, and styles of this type of woven carpet. Since tufted rugs are so soft, they are safe for kids' rooms. Furthermore, their beauty made them an excellent choice for living room rugs. The production of tufted rugs is relatively quick, which makes them inexpensive.
Hooked Rug
Rug hooking is an art that goes back 400 years ago, and a hooked rug is a type of hand woven rug that is produced with this ancient technique. During the process of creating a hooked rug, a firm woven base is needed to act as the main area of the rug. Then, a hook is used to weave the loops inside the woven base. This will create an embossed texture on the rug. Hooked rugs are so artistic and will be a great choice for living rooms or bedrooms.
Flat Weave Rug
As its name indicates, a flat weave rug is completely flat, which means there is no pile on it. This type of rug is made by weaving vertical and horizontal yarns together, which makes a flat knot. Flat weave rugs are so durable because they do not have any pile to shed. Therefore, they can be a good choice for high-traffic rooms or areas like playrooms that are more prone to dirt and stains.
Woven Wool Rug
This type of woven rug is produced with wool fibers. Therefore, woven wool rugs are considered organic and eco-friendly. One of the most attractive features of woven wool carpets is heat retention. This type of carpet keeps more heat inside and is the best carpet for the cold season of winter. Also, this feature works the opposite way in the summer season. Machine-made wool rugs have a long-lasting life. In case of maintaining and cleaning the rug, it will last up to 20 years.
However, hand-woven wool rugs are more valuable than machine-made ones. If they are carefully maintained, they will last for a century. That is why this type of rug is so attractive for antique collectors.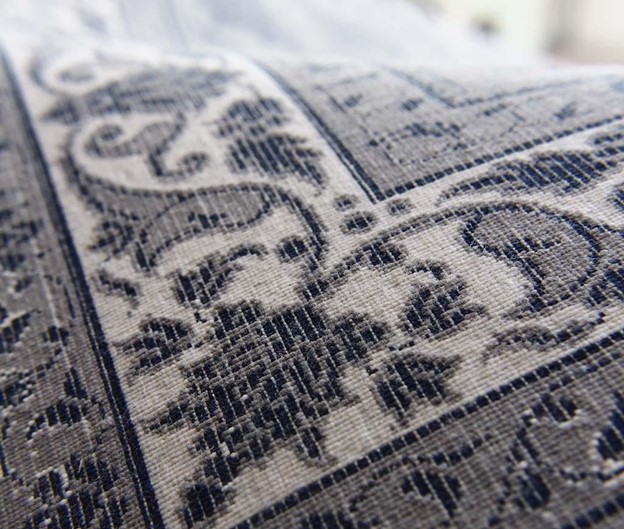 How do I know if my rug is hand woven or machine made?
Although the appearance of hand-woven rugs and machine-made rugs are slightly different, it is still hard to recognize them by their look. But the back of the rugs tells a lot about them. When you look at the back of the hand-knotted rugs, you can see uneven knots that are not uniform. That is the signature of a hand-woven rug that even gives it value. Since machine-made rugs are produced with a machine, the knots are perfectly even on its back.
Conclusion
There are several types of rugs with different textures and designs. Therefore, finding the right style that goes with your home decoration will be easy. Whether it is a round woven rug or a simple grey woven rug, you can always make your home look better and warmer with a fashionable and in-style woven rug.
How to clean a hand-woven rug?
Cleaning the hand woven rug regularly can extend its life. Hence, apart from vacuuming the rug, always use a mild detergent and a clean brush to remove any stains from the rug.
What is a flat woven rug?
A flat woven rug is the simplest type of rug because it is flat, does not have any piles, and is a durable carpet for hallways, kitchen or high-traffic rooms.
How to clean a flat woven rug?
Since there are no piles on this rug, cleaning it will be so easy. You can use a vacuum cleaner to clean the debris. Washing flat woven rugs will also be easy at home if the rug is not too big or heavy. In case of removing a stain, you can use a mix of mild soap and cold water and use a sponge to wipe the stain.
How to get dog pee out of a woven rug?
Pet urine is very damaging to rugs, especially the hand woven rugs. Use a mix of clean water and a mild detergent like soap or shampoo. Dip a towel in this solution and rub it on the carpet to clean it. Make sure to dry the area because if it stays wet, it may smell bad.
Related posts
Popular Rugs
Rugs Categories