A Hallway Runner Rug protects the floor from dust, dirt beneath the shoes/feet, and wear and tear from constant walking. Since they are mostly used in hallways (especially long ones), they also add to the house's overall look. So, one must carefully pick them out in size and style. 
Typically, a standard hallway carpet is about 2 to 3 feet wide and 6 to 14 feet long. However, depending on the area that has to be covered, you can get longer ones too. It is recommended to leave 4 to 5 inches of flooring visible on every side of a hallway rug for an elegant look. 
We have some recommendations for you if you are looking for quality rug options to protect or adorn your hallways!
Hallway Runners: The Best Options!
Hallway runner rug in Australia is one of the thriving elements in the home décor world. You will find outdoor rugs, rugs for bedrooms, rugs suited to living rooms, and any other room in your home.
However, finding a fine hallway rug that suits your home cannot be easy. To cut your efforts short, here are some promising options to browse. 
Diamond 7001 Titanium
The Diamond 7001 Titanium, with its intricate traditional design, exudes the aura of pre-modern hall runners. This machine-made rug is produced from polypropylene (headset) material. Its oriental and Persian-style patterns in grey and silver guarantee an elegant look for your hallways. 
This beautiful rug is available in many shapes and sizes: runners, standard size, oval, round, square, and even wall-to-wall. Additionally, it is designed to adapt to various areas of your home elegantly. You can put it in the bedroom, living room, or hallway or add it to the kitchen floor runners collection. 
The integral weaving of fiber in the manufacturing of this hallway runner prevents all sorts of side effects too! Not only will it add colour to your hallways, but it will also make them appear grander than ever.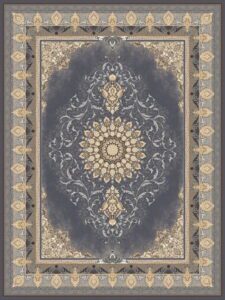 Diamond 7001 Titanium Light
The Titanium light hallway rug from the Diamond collection is more suited to people who prefer lighter colours. This particular style is not very different from Diamond 7001 Titanium. Except it comes in the additional colour of cream, along with grey and silver. 
This particular hallway carpet also features a classic look with its fine Persian-style patterns and light colours. Similar to Diamond 7001, it is machine-manufactured and made using polypropylene material with intricate fiber weaving to avoid any side effects. 
In a house where traditional aesthetics inspires the home décor, such classically designed modern hall runners will fit right in! It will flawlessly adorn your hallways, living rooms, small corridors, kitchens, bedrooms, or any other place you would want to place it. Plus, the variety of sizes is a bonus. Look Here Our Runners


Another excellent option is Diamond 7002 hallway runners. The stunning design on this rug reminds one of a beautiful constellation in the bluish-black starry night sky. Due to its aesthetic pattern, it leaves many other options for carpet runners for halls.
This rug features cream, grey, and silver, a colour scheme that will easily match most home décor. It is another example of hall runner rugs in Australia that are made from polypropylene and come in many shapes and sizes. The fine and intricate pattern on the rug makes it stand out among other hallway rugs and ranks it higher among floor runners for kitchens, bedroom rugs, wall-to-wall rugs, etc. Persian designs also inspire this particular diamond collection. The material is quality and promises to exude class and elegance in your hallways.
Conclusion
To sum up, hallway runners are a great investment, especially if you want to save your floors from damage of any kind! They are super user-friendly and magnificently enhance the look of the house. With their impressive designs, runner rugs can be put up in various rooms in the house and have the charm to bring class to any room or hallway!
So, if you want a cheap and elegant option to cover the floors in your hallways, try our recommendations for hallway rugs. Just remember to get the right size and ensure the rug's design matches your home's aesthetic!
Related posts
Popular Rugs
Rugs Categories