Searching for a new rug to complete your home decoration? Shaggy rugs are among the most popular trends these days. This type of rug is more than a rug; it can add extra charm to your home and act as insulation due to its thickness. If you are wondering whether a shaggy rug is suitable for you or not, find your answer in this post.
What Are Shaggy Rugs?
A shaggy rug has piles with lengths ranging between 20mm to 50mm. That is what gives the shaggy rug a unique style. This type of rug is sometimes called shag pile rug, which refers to its large piles. The shaggy carpet is suitable for the living room and bedroom. It is manufactured with different materials, from polypropylene or polyester to a more natural material like wool. That is the main reason this carpet is found at different prices.
Generally, wool is considered the best material for people with allergies; it is environmentally friendly and fire-resistant. That is why wool shaggy rugs might be more expensive than ones woven with synthetic materials.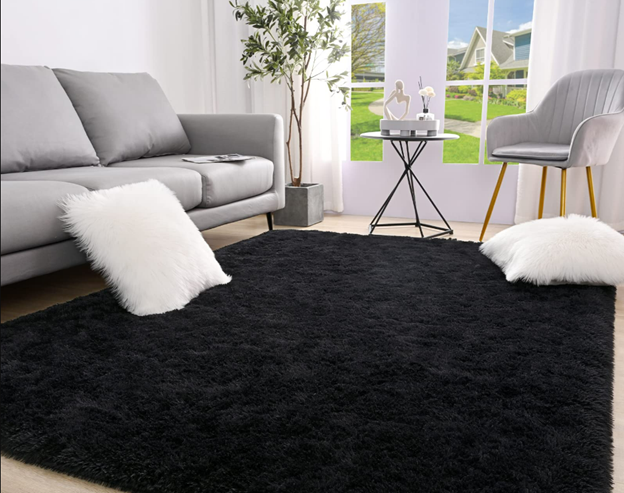 What Are The Benefits Of Using Shaggy Rugs?
Purchasing fluffy carpets will have many benefits for your home:
It will add warmth – the thickness of the rug and length of the piles make shag pile carpet an excellent option for homes that will get cold in winter. Especially if you have wood flooring, purchasing shag area rugs can keep your home warmer.
It feels comfortable underfoot – shag pile carpets are so soft. Thus, while walking on them barefoot, you will feel comfortable and relaxed.
Shaggy rugs are trendy – one thing that will not disappoint you from buying a shaggy rug is that it is always fashionable. You can easily add this carpet to any decoration style.
It will add coziness – everyone wants to have a cosy home where they can relax after a long busy day. Shag pile rugs can add this coziness to your room, especially on cold days.
Safe for children – kids love running in the house, and while running, they may fall. One thing that makes parents afraid is that their children are hurt from falling on the floor. But the best part is that the shag area rug is soft and comfortable. Thus, it will be the best option for your kid's bedroom. They will have fun safely.
Shaggy rugs are durable – unlike what many people may think, shag carpet has longevity and durability, provided that they are properly cared for and maintained. That is why it is important to learn more about maintaining and cleaning shaggy rugs, which we will mention further.
How To Choose A Shaggy Rug?
Consider the following rules while buying a shaggy rug:
Decoration Type
Whether you want to buy a rug or any other items for your home, you first need to consider the decoration type. Every decoration has its rules; it can be the colour, the way you place the furniture, and other things that may define the decoration. After this step, choosing a rug will be easier for you. For example, you can easily search for modern shag area rugs for modern decoration.
Choose The Right Size
Area rugs come in different sizes. Find the right size for your room. Think about some rules about the carpet size: your rug should not be as big as it sticks to the walls from the sides of the room. Therefore, if you want to buy large shaggy rugs, always opt for those that leave at least 5cm empty space from each side.
Think About The Colour
Definitely, colour is the most important thing in your decoration. Choose it carefully to make your room more attractive and energetic. If you are a person that loves simple decoration, think about a fluffy rug with only one colour. They are beautiful and good for minimal decoration. On the other hand, if you like to add more colours to your room, you can think about a shag pile rug with colourful patterns. It can be a geometric pattern rug or a floral style. That depends on your decorating style.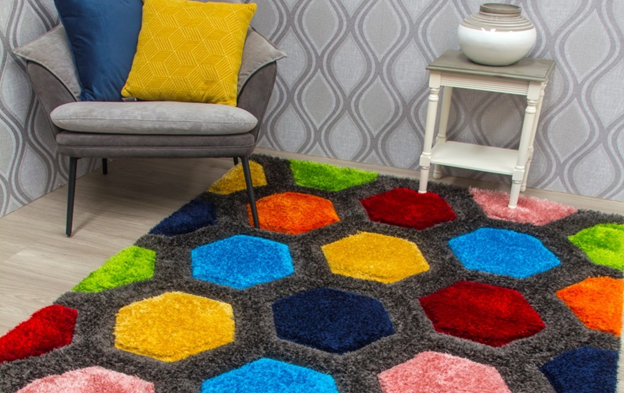 Do Not Forget The Shape of Shaggy Rugs
Like any other rugs, shaggy carpets come in different shapes too. Therefore, do not think that you should always buy a rectangular carpet. If you want to have more creative decoration, you can add a round shag rug to your room and give your room more smoothness.
How To Clean Shaggy Rugs?
As mentioned, shag pile rugs are durable if you maintain them correctly because if you do not clean this fluffy rug with care and the right method, soon you will see the piles coming out of the carpet, which is not what you want.
Vacuum Clean
Like other types of rugs, the first method of cleaning a fluffy rug is using a vacuum cleaner to remove dirt from the carpet. However, it is recommended to use a clean upholstery extension so the piles will not get caught or pulled. It is better to do this step every week. However, if you have a pet or live in a place with more dirt, you should do it twice a week.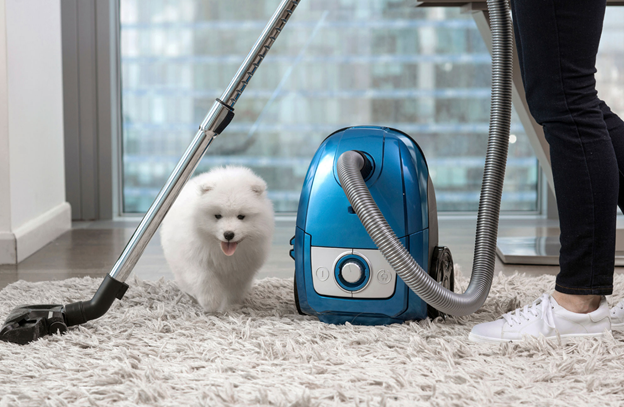 Steam Clean
The long piles of the rug may prevent you from deep cleaning it via a vacuum cleaner. Therefore, occasionally use a steam cleaning machine to clean the shaggy rug. This should be done more often if you have pets in your house.
Professional Cleaning
If you want to wash this type of rug, it is better to leave it to professionals. You can do this once or twice a year, depending on how dirty it may get.
Bottom Line
Keeping your room decoration fashionable, cozy, and trendy is very easy by purchasing shag area rugs for your home. There is a range of shaggy rugs on the market, and you can choose the suitable one for your decoration. If you are searching for shaggy rugs in Australia, you can count on Carpetrend. Here you can also buy Persian rugs online and add more charm to your home.
What is a shaggy rug?
Every rug with piles larger than 20mm is called a shaggy rug. They come in different colours and shapes.
Are shaggy rugs in style?
Shaggy rugs add a trendy look to your home decoration. They are always in style, and you can add them to any decoration. 
Where to buy the shaggy rug?
If you live in Australia, you can easily buy shaggy rugs online on the Carpetrend website. 
How to wash a shaggy rug?
This type of rug is sensitive; the type of the detergent you wash it with is important. Although it is recommended to leave the washing to professionals, you can do that by hand washing at home. Fill a bathtub with cold water and a mild detergent, then gently move the rug around in the water. Leave it in there for half an hour and then bring it out and gently squeeze out the excess water.
How to revive a shaggy rug?
One easy way to revive the shaggy rug is to put a clean damp towel over the flattened area of the rug and iron it until the fibres pop back. 
How to stop a shaggy rug from shedding?
If you buy a fluffy carpet with high-quality fibre, you will not see it shedding very soon. However, if the piles are loose, ironing or steaming can prevent them from shedding.
Related posts
Popular Rugs
Rugs Categories